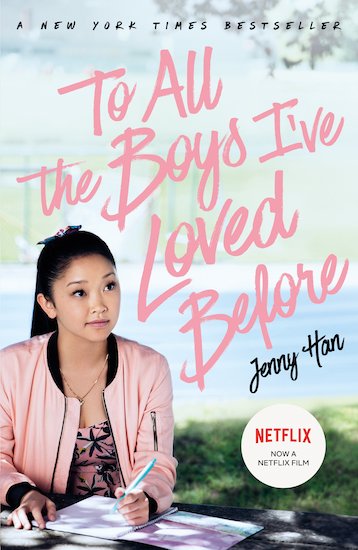 While nursing a hangover today, I saw that this movie was out on Netflix now. I didn't know much about it going into the viewing. I didn't even watch the trailer. I love a good teen romance though.
I wasn't expecting the feels I got. I wasn't expecting the number of times I cried throughout the movie. This is one of the best teen romance I've seen in a long, long time. Actually, it's probably the first one ever that touched my heart the way it did.
Maybe it's because even up until now, I write love letters when my heart gets broken or is about to break. This has been something I've been doing since I was in elementary school. Except I never stored them, I gave them to the recipient in an awkward manner. None of the letters ever helped recover a romance or drew any senses. They were mostly rejected, probably thrown out. And it's weird, I always felt like when I gave it to them, they would take it as me holding on. When I gave the letters, it was my way of trying to let go. It's always been the sentimental twit part of me and as I get older, it's just never gone away.
Maybe it's because I could relate so much to the fantasy of romance that Lara Jean lived in. I've been there. If I had to be honest, I'm probably still there. Instead of novels, it's the accumulation of all the romantic movies I watched growing up. The ones that built my fantasy and partially raised me. They gave me feelings and some understanding of love when I didn't have much in my real life. The tears from everything I felt took away the times I felt lonely about my own life. The feelings I got from them was my escape.
LJ's escape isn't as sad as mine.
I also relate to Lara Jean. The awkwardness. The facial expressions. I think she is how I wanted to be in high school if I had a better sense of what life was, or even just a normal one. She's the lowkey cool but not cool. Like you know this but you also don't because she's not the definition you think of or what it should be.
This movie was sweet all the way through. The setup, the pace, the formula worked so well. It was touching. It was what a teen romance movie should be. It felt pure and tugged at your heartstrings without breaking your heart to do it. I liked that it had a feel-good vibe to it without having to have a "nice" tone to it. It has what the 80s captured in teen romance, the wardrobe that has something of a late 90s-early2000s feels with the modern times of now. There's a feeling of a journey from all the movies you saw throughout your life in the now if that even makes sense. The teenage girl forever inside lives for these kinds of movies.
There are were scenes that I can relate to that caused me to automatically tear up and cry. Like the one at the diner post party. The kitchen post-dinner. I felt the words because I'd felt those feelings with them before personally. These types of conversations are ones that I wish I could have had more or even have now in my own life because honesty is tough. Being vulnerable is tough. Maybe I feel too much into scenes like that.
You feel good about the movie all the way through. I did have one beef though. I was distracted by LJ's eyelashes and didn't think she should've had them for the movie. But that's aesthetic judge and my own opinion.
It also made me realize I'm a bit jaded. I can't explain why without going into spoilers though.
I've watched it twice now and the second time around was even better.